Remote Monitoring Center
The Key to Successful Home Monitoring
The Notal Vision Monitoring Center makes it easy to care for your intermediate AMD patients between office visits, when it's difficult to manage the acute onset of late-stage disease that requires timely treatment. As a Medicare-credentialed provider, the Monitoring Center offers a comprehensive, nationwide home monitoring service for your age-related macular degeneration (AMD) patients at no-cost to you.
As the provider of the ForeseeHome AMD Monitoring Program, the Notal Vision Monitoring Center is a remote ophthalmic monitoring center led by practicing ophthalmologists and supported by certified ophthalmic professionals.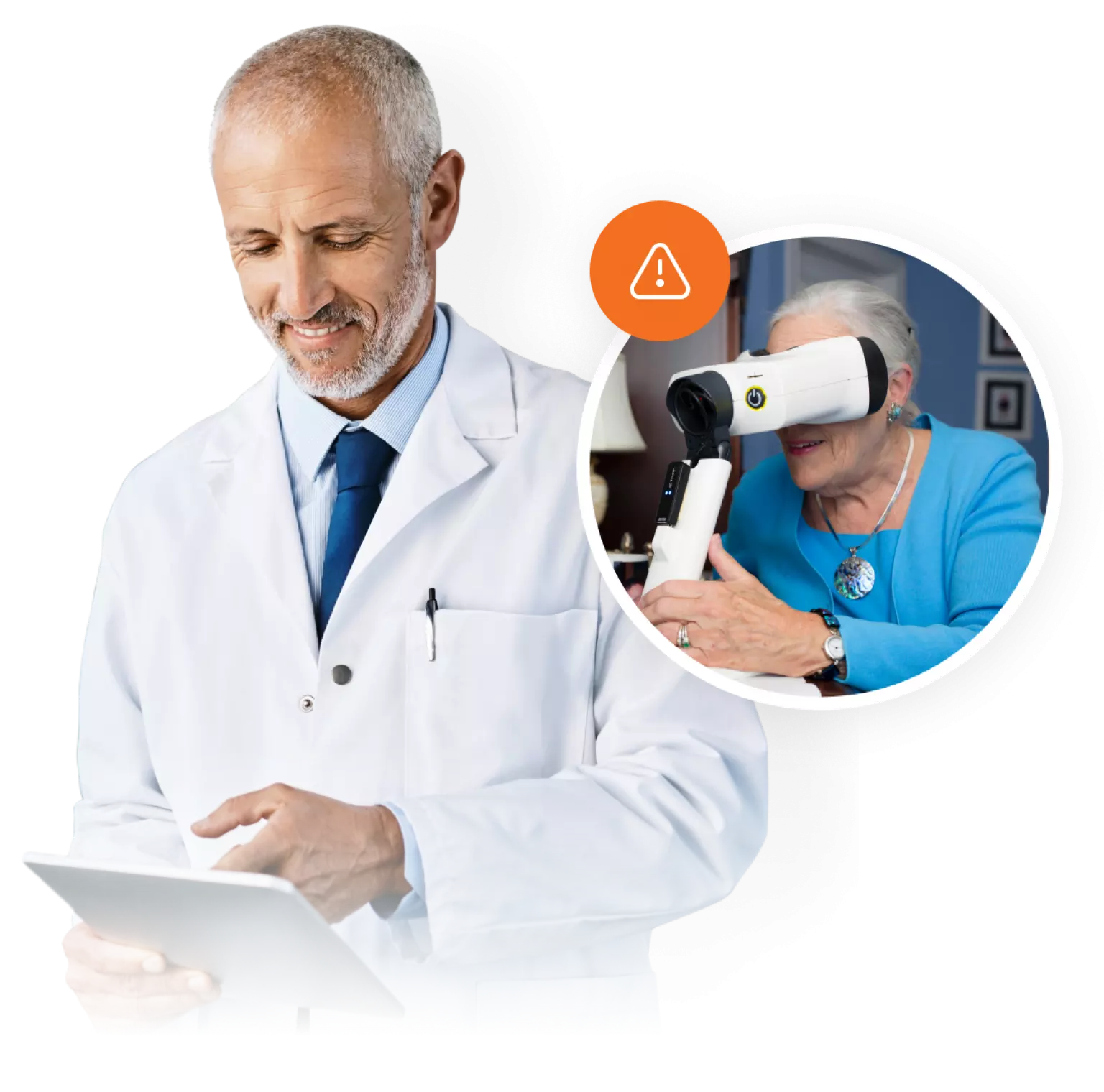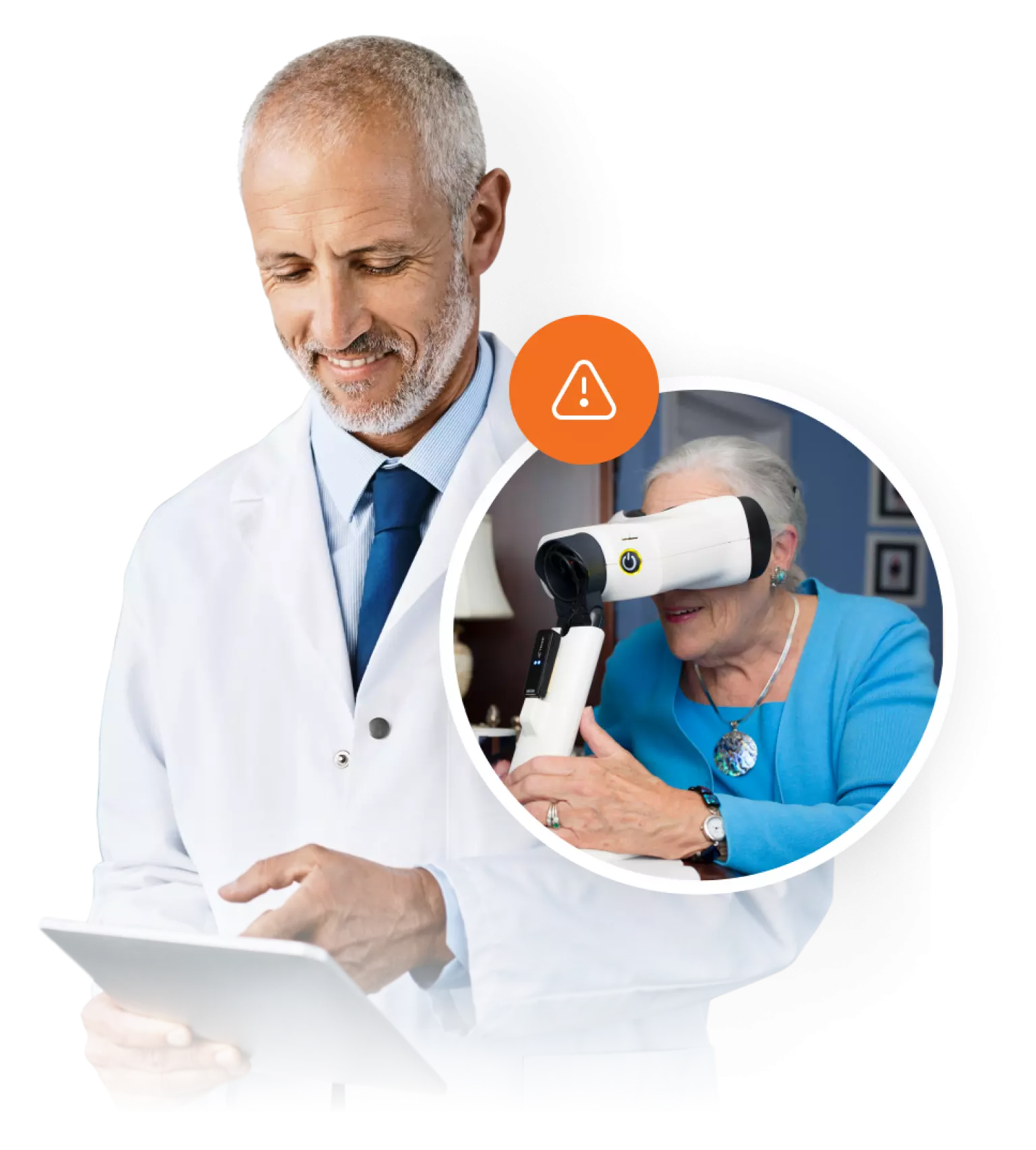 A Comprehensive Remote Monitoring Program
Once you refer your patients to us through an easy-to-use online portal, we manage everything from there:
Benefits Verification & Authentication
Our in-house Patient Financial Services team works with the patient's insurance provider to secure the best possible coverage.
Program Enrollment
Our Engagement Center enrolls your patient in the ForeseeHome program over the phone and explains their insurance coverage options, how the program works, and provides any additional disease education needed about why wet AMD early detection is so important.
Device Provisioning
We ship the ForeseeHome device to your patient's home using FedEx.
Device Training
Once your patient receives their device, a training call is set up to walk them through how to set it up, turn it on and begin testing. We take as much time as your patient needs to make sure they are comfortable using the device. See a demonstration of the test here.
Continuous Monitoring & Engagement
After your patient establishes a testing baseline, needed to begin monitoring, we make sure they are testing regularly and engage them through monthly newsletters, reminder emails, and an online patient portal.
All your patient's testing information is also available for you to view online via a HIPAA-compliant portal.
Alert Management
If your patient's ForeseeHome tests show a statistically significant change in visual distortion, an AI-based alert sent from the device signals the Notal Vision Monitoring Center to verify the alert and notify your practice so you can determine the best course of action. Learn more about ForeseeHome alerts.
The Patient Testing Experience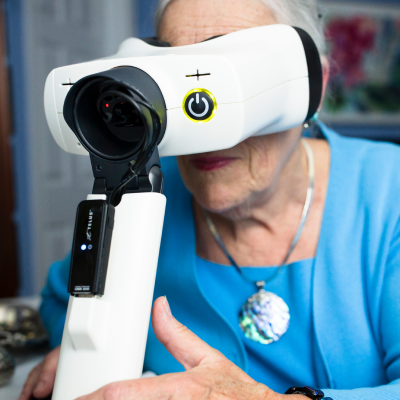 Patient uses mouse to click where a bump or wave in the dotted line appeared on the screen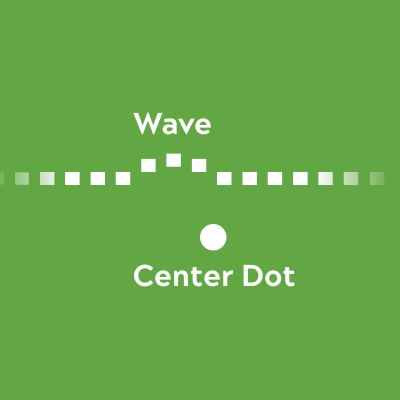 ForeseeHome uses Preferential Hyperacuity Perimetry to detect tiny changes in the central visual field, including metamorphopsia and scotoma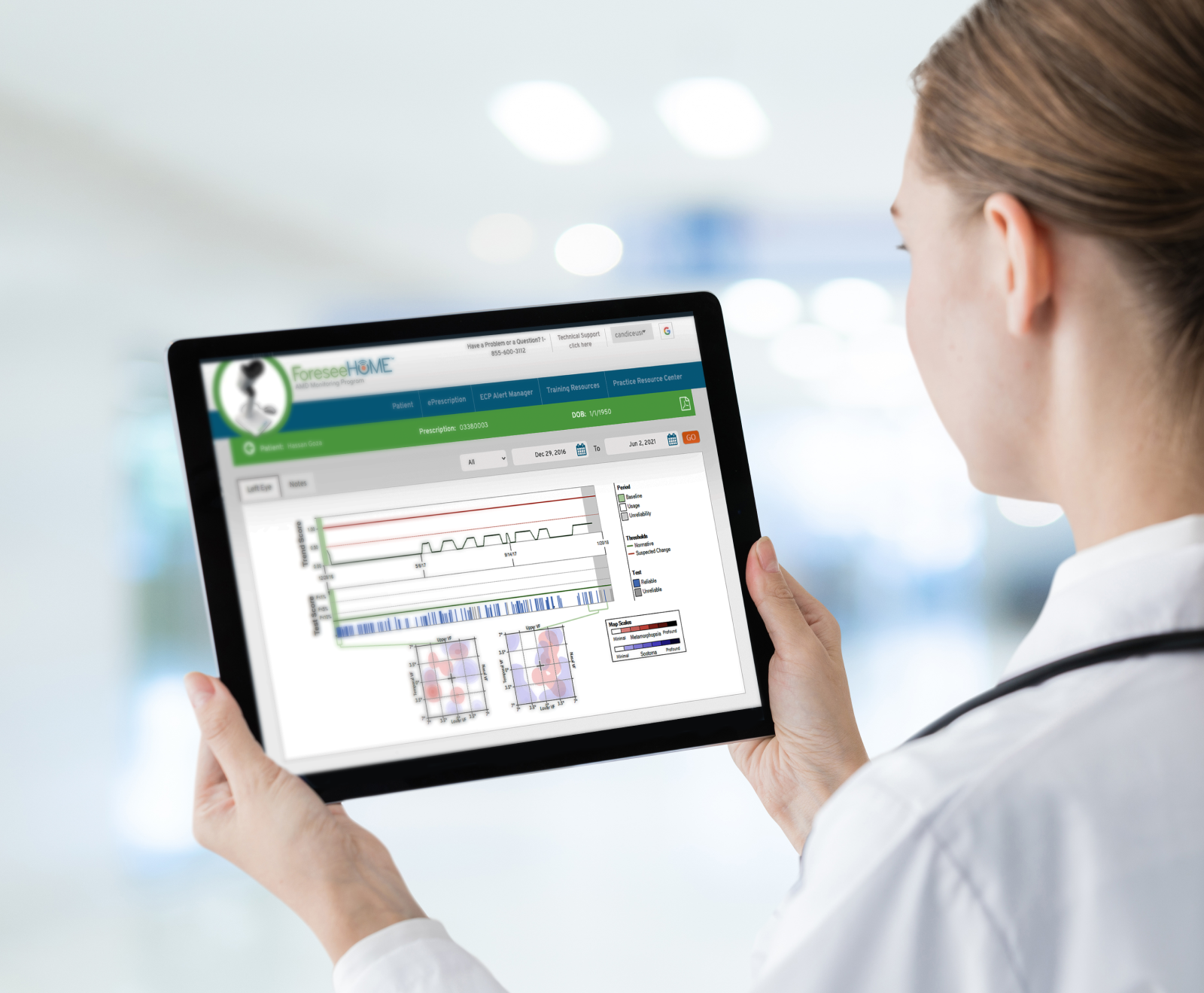 Data from each test is sent to the Notal Vision Monitoring Center
ForeseeHome is a short, easy-to-use test the patient is encouraged to do daily.
During the test, a series of dotted lines flash on the screen and disappear.
Using a computer mouse, the patient clicks where they saw a distortion, which looks like a bump or wave, on the dotted line.
The test takes a couple minutes per prescribed eye,
 per day.
Once the test is complete, data is automatically sent to the Notal Vision Monitoring Center for evaluation and monthly reports are emailed to practice, and available 24/7 on an Eye Care Professional (ECP) Portal.
Patient Referral & Data Access
Access Patient Information Quickly & Easily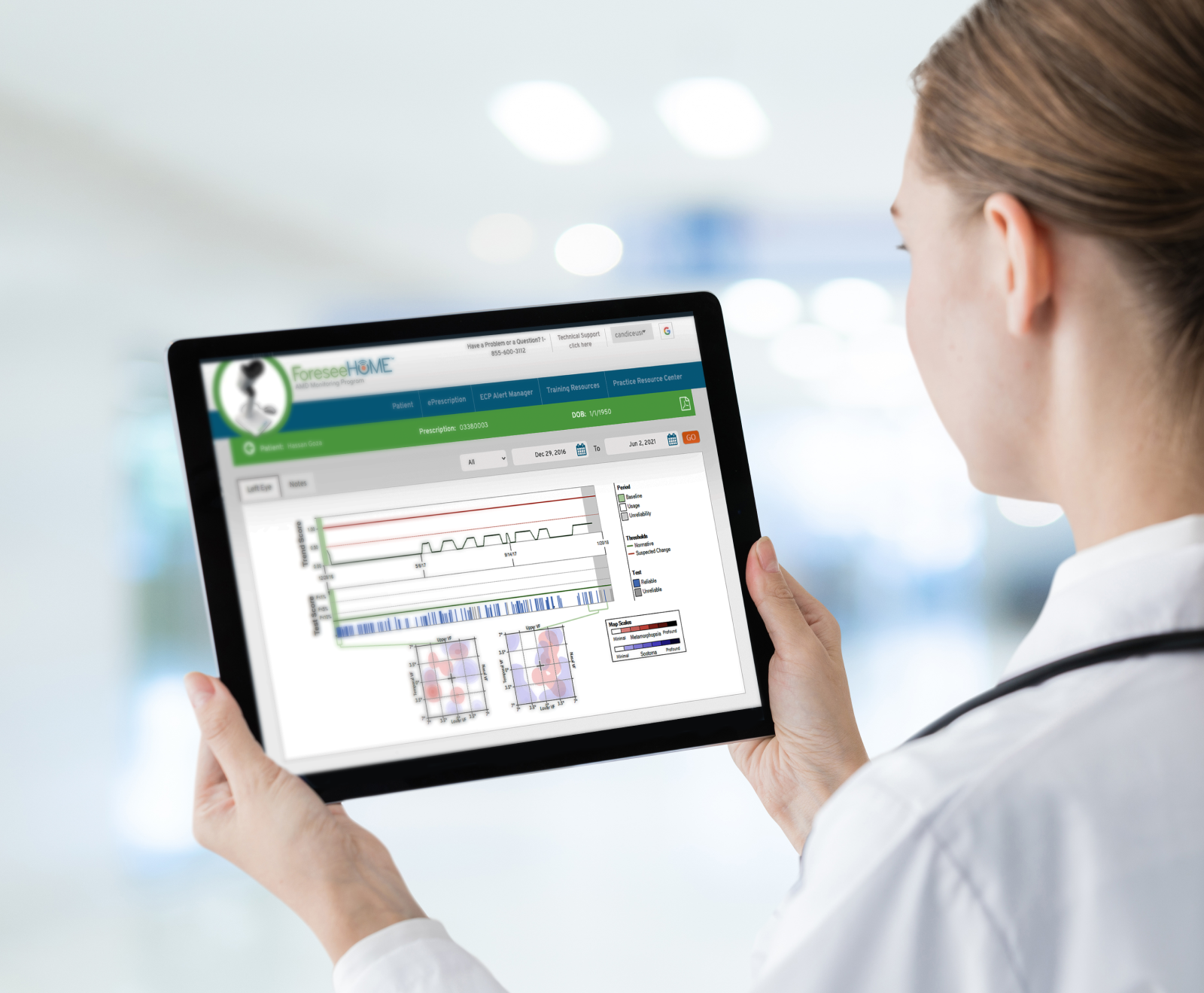 The secure and HIPAA compliant Eye Care Professional (ECP) Portal allows you to:
Refer patients online
Access and review individual patient data

Testing information, frequency and reliability
Metamorphopsia map with central 14 degrees of vision, which details metamorphopsia and scotoma based on intensity
All alert information

Order patient materials
Implementation
Practice Training Program
When you sign up to become a ForeseeHome referring partner, one of our certified ophthalmic professionals will work with your staff to easily integrate ForeseeHome into your practice workflow.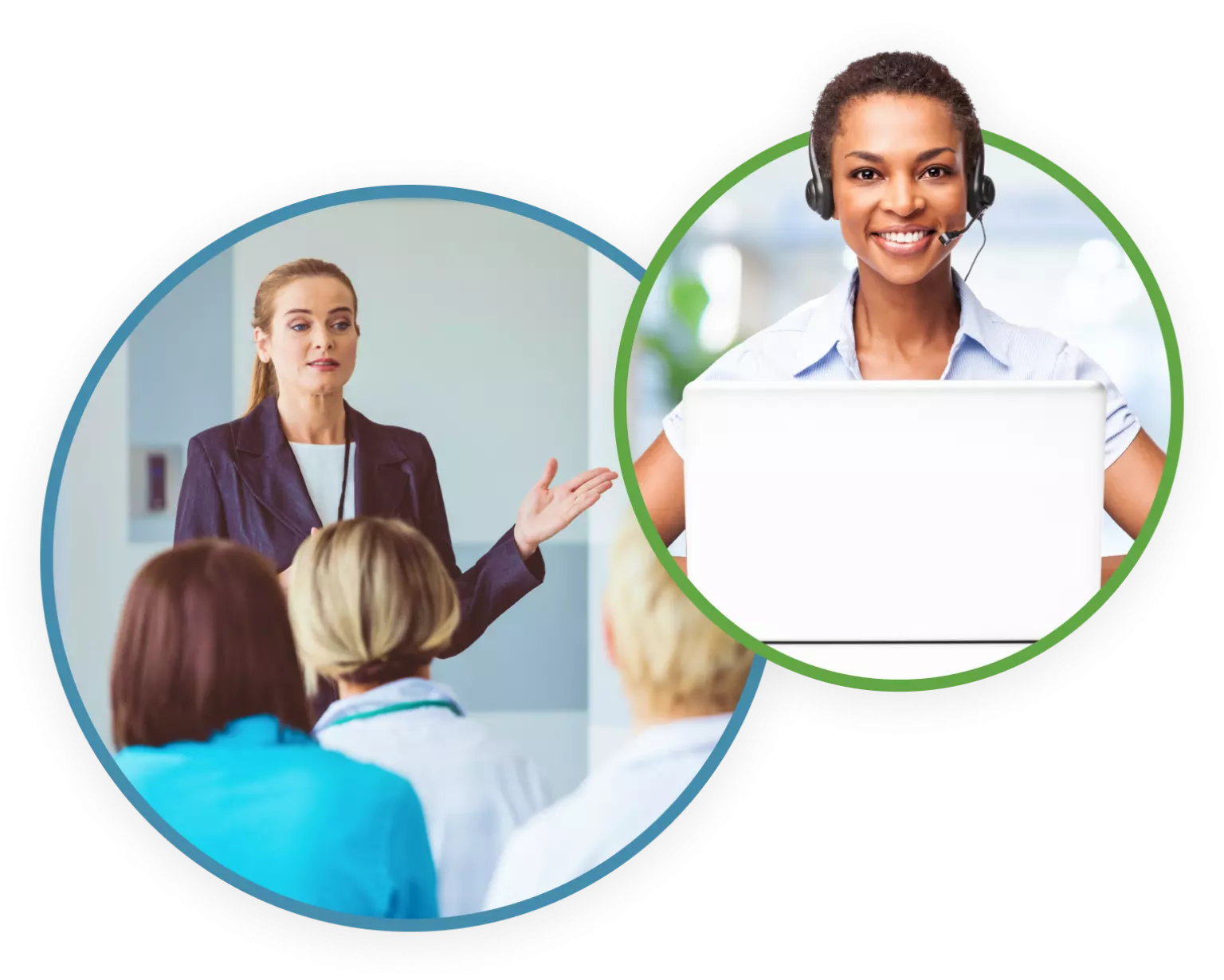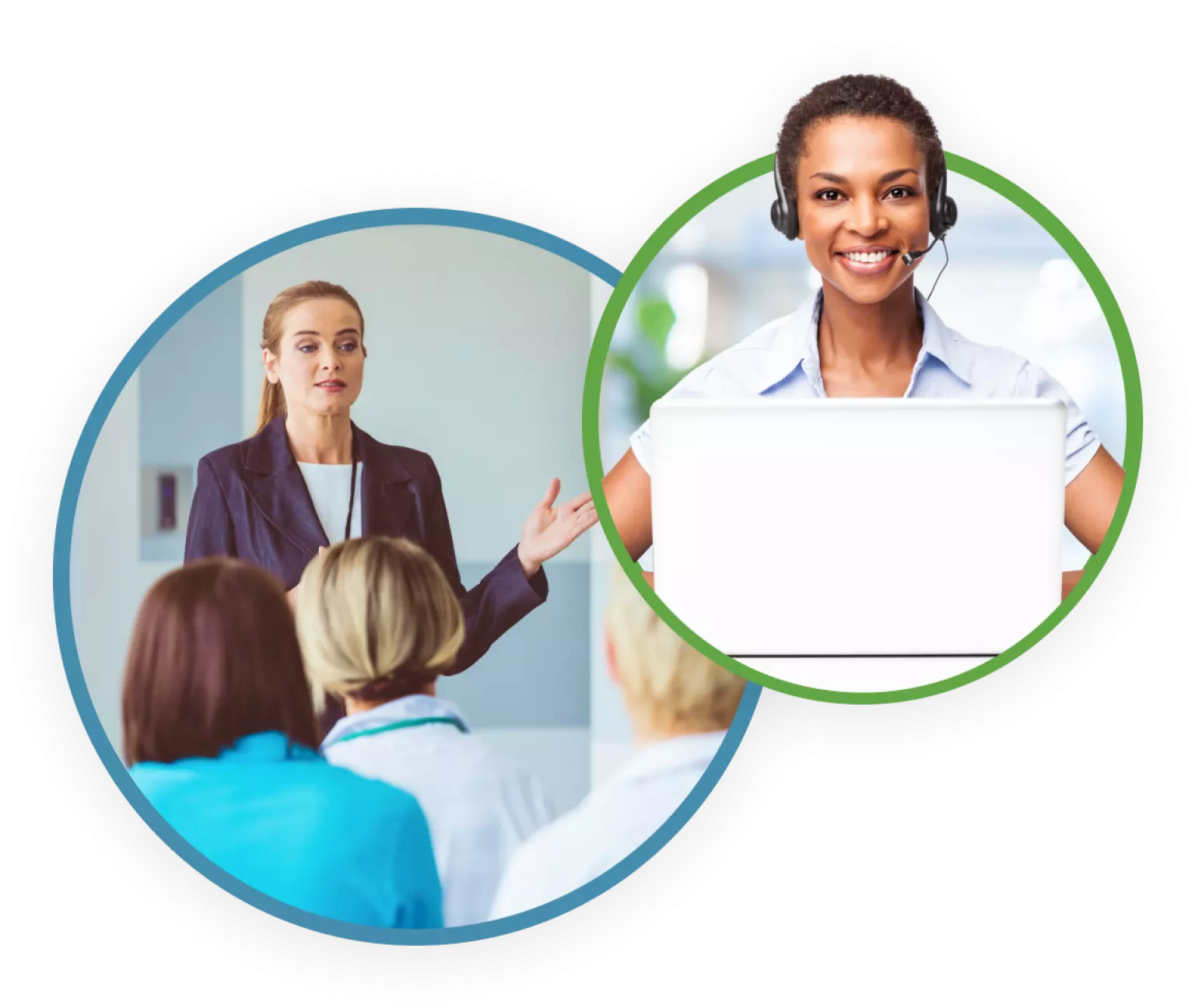 Done over the course of two 30-minute lunch sessions, the trainings include a free half JCAHPO CE credit for your staff and cover:
Importance of Wet AMD Early Detection
ForeseeHome Patient Journey
Ideal Candidates for ForeseeHome
Implementing ForeseeHome into Practice Workflow
Referring Patients via Online Portal
Basics of ForeseeHome Patient Testing
ForeseeHome Patient Status Report & Metamorphopsia Maps
We also provide continuous support to your team to make sure ordering ForeseeHome for your patients is a seamless experience.