Need for Early Detection
Saving Functional Vision Requires Early Detection
Real-world and clinical trial data prove that early wet AMD diagnosis with good visual acuity is essential in preserving long-term functional vision (20/40 or better) with treatment
AAO IRIS® Registry Real World Data (US)2 January 2013 - June 2017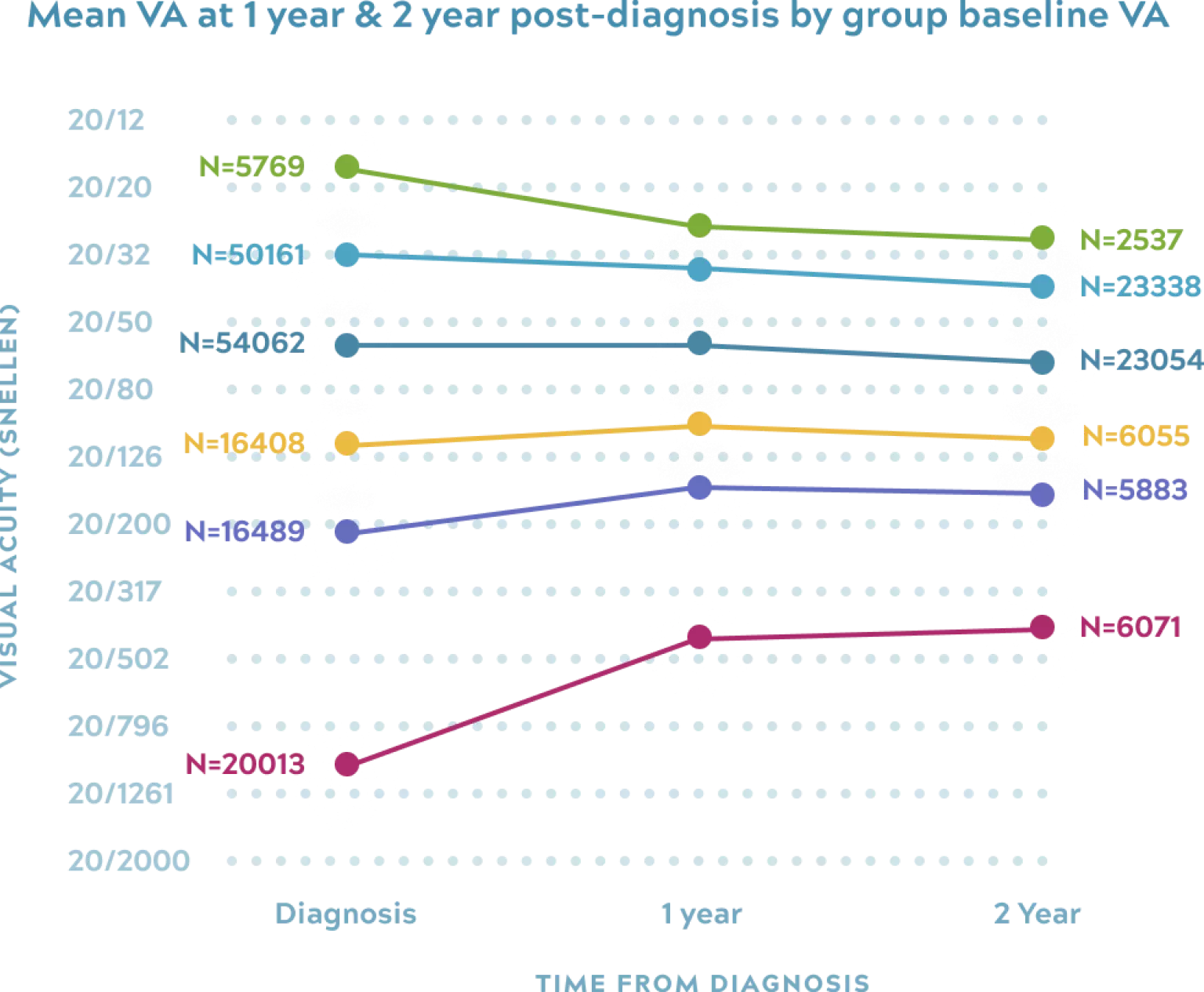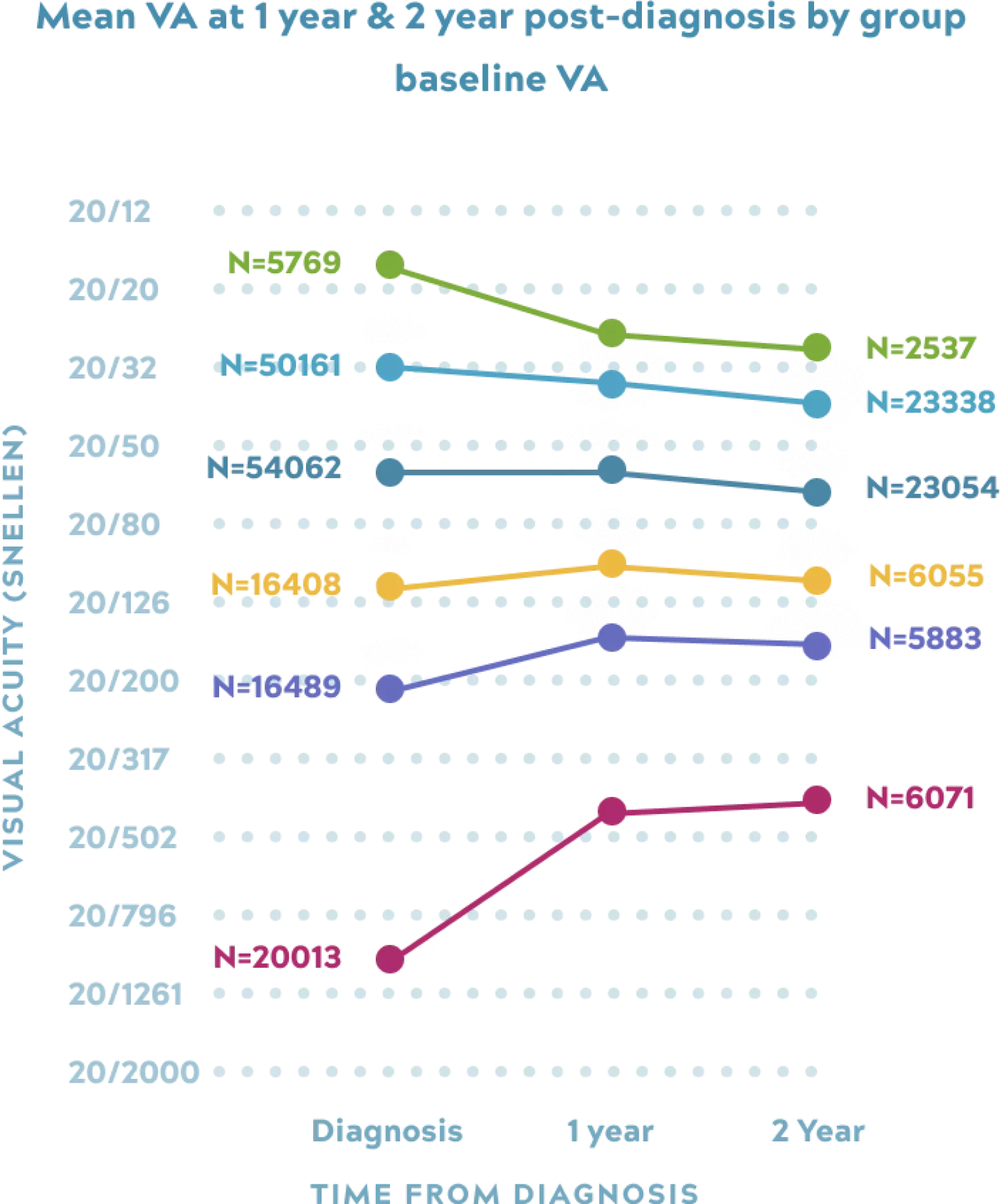 Comparison of Age-Related Macular Degeneration Treatment (CATT) Trial4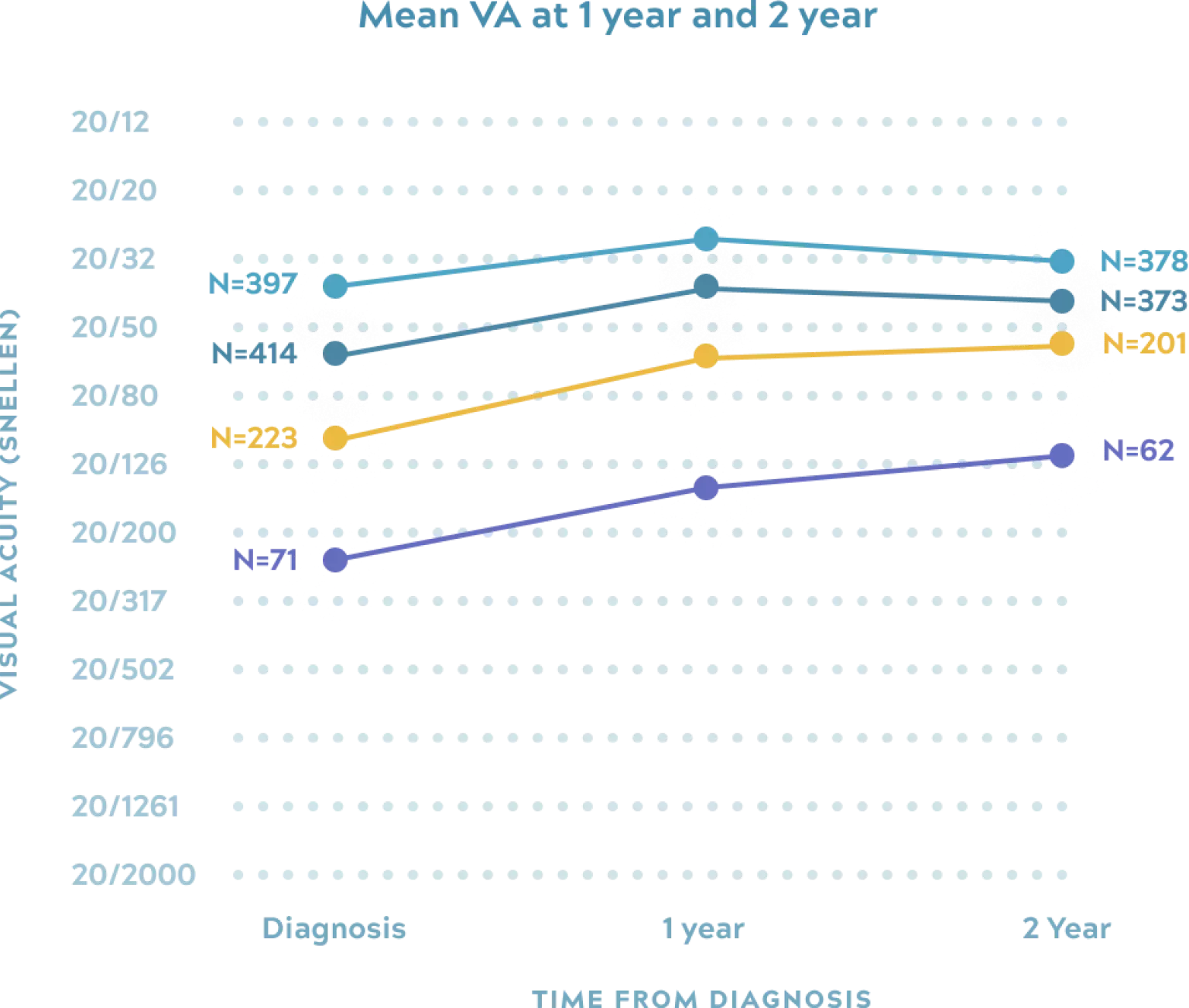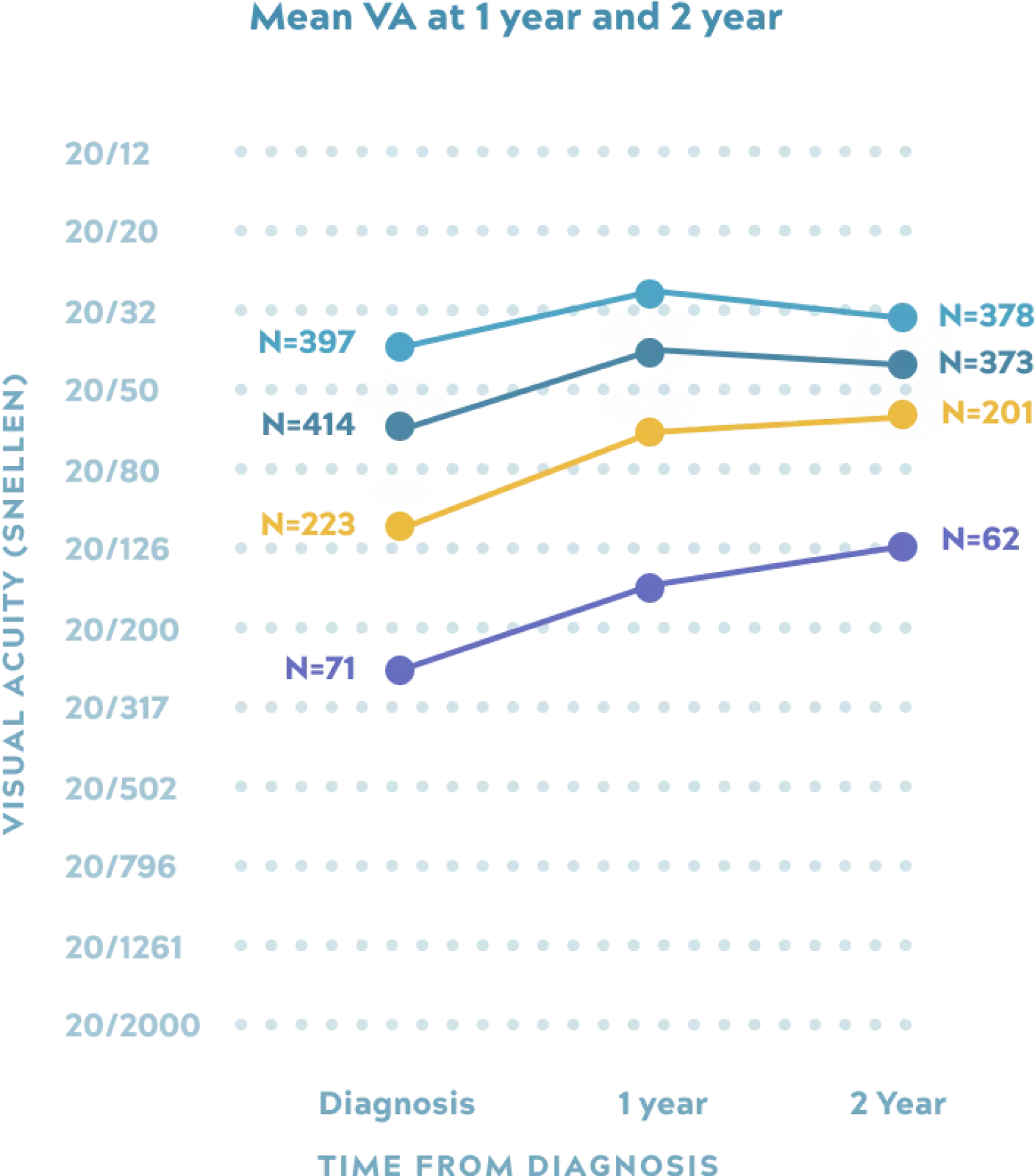 162,902 eyes diagnosed with wet AMD (153,141 patients)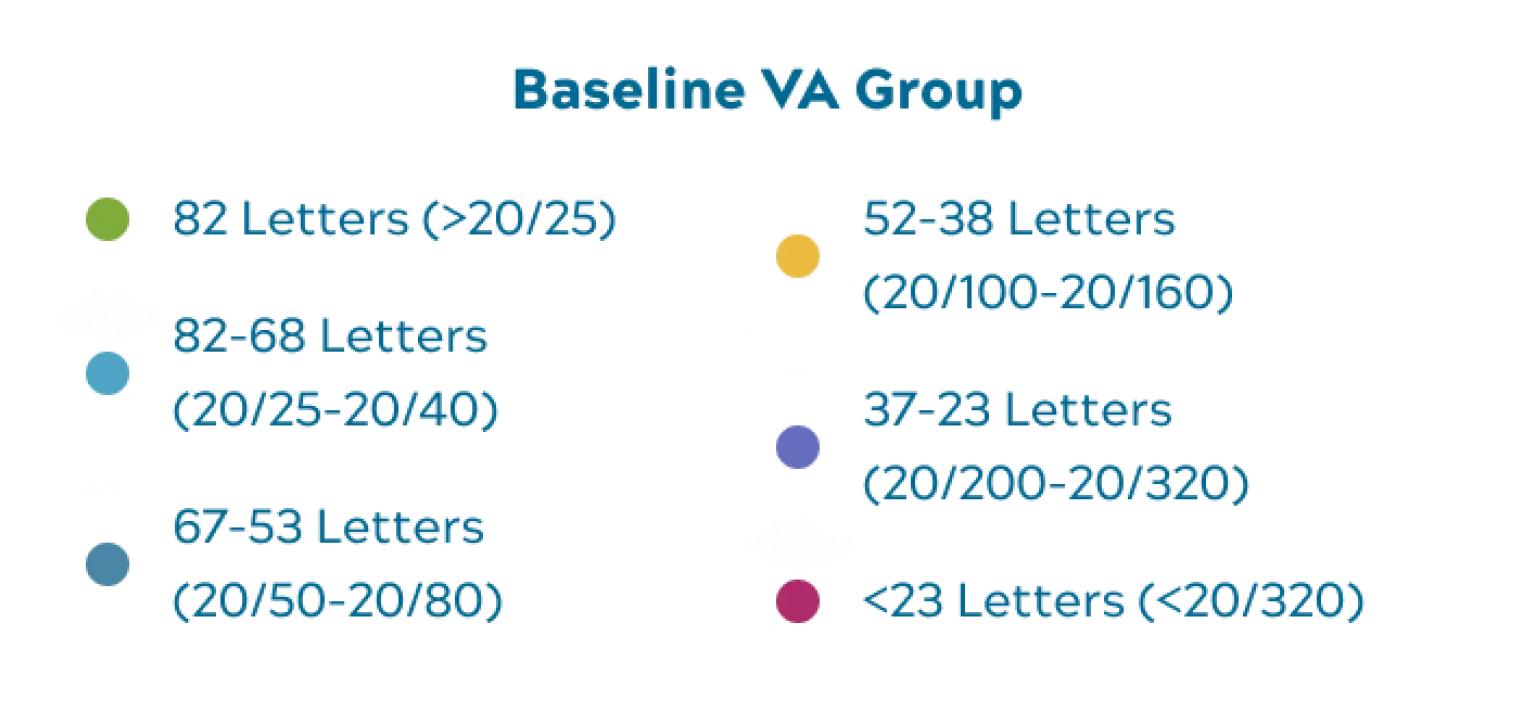 1,185 eyes diagnosed with wet AMD
On average, the better the visual acuity (VA) is at the time of treatment initiation, the higher the likelihood for functional vision to be maintained for at least the following 2 years2,4
Lesions at the onset of wet AMD grow more quickly, resulting in more rapid vision loss than later stage lesions5
Vision is better preserved when anti-VEGF therapy is initiated while wet AMD lesions are small, and VA has not yet deteriorated
Current Standard of Care
Not Enough Eyes are Detected Early Enough to Save Functional Vision
IRIS® Registry real-world data confirms what multiple clinical trials have shown: not enough patients are detected with good visual acuity (VA) at treatment initiation.
The percentage of first and second eyes diagnosed with wet AMD when visual acuity is 20/40 or better is low. Even with closer in-office monitoring while one eye is being treated, the data reveals that out of 60,618 fellow eyes the average VA was 20/79 at the time of diagnosis.2
Only 36% of fellow eyes had a VA of 20/40 or better at treatment initiation2
The fellow eye can convert at any time between office visits and be left untreated for weeks, or even months dependent on the patients' treatment interval
For the majority of patients, vision loss is irreversible by the time wet AMD is detected using current care models
Eye(s) ≥ 20/40 at Wet AMD Diagnosis
Eyes that convert to wet AMD lose a substantial amount of vision before diagnosis and treatment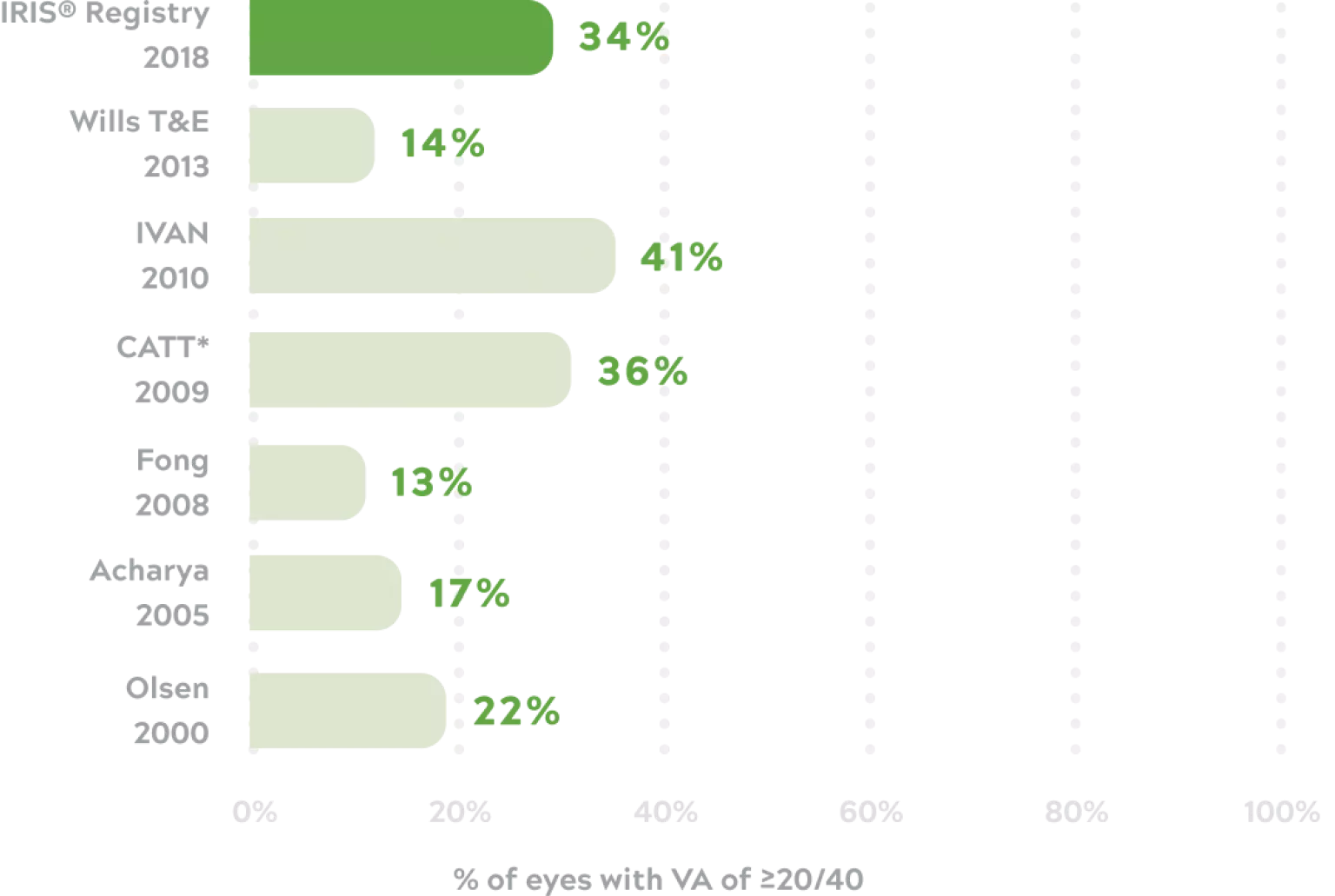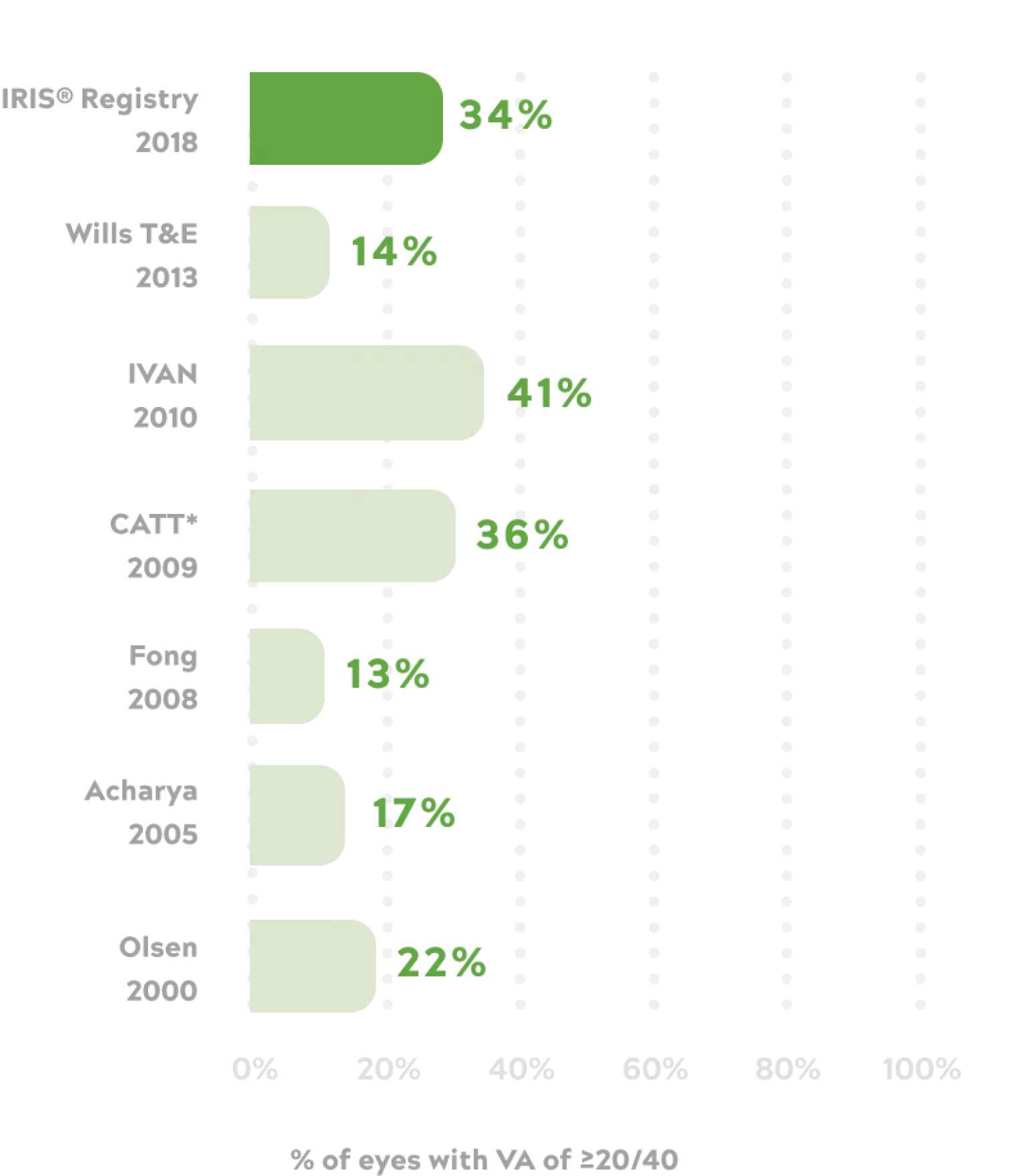 Not enough diagnosed wet AMD eyes are detected early
Real-world and clinical trial data show a small proportion of patients with good VA at initiation of anti-VEGF therapy in both first and second eyes.

*All but CATT included eyes with VA of 20/20 or worse (CATT included ≤20/25)

The ForeseeHome Solution
Help Patients Maintain Functional Vision
Adding the AI-enabled ForeseeHome monitoring service to your standard of care helps you diagnose wet AMD earlier, while your patients still have their functional vision (20/40 or better).
The ALOFT Study followed 2,123 dry AMD patients, from 5 retina specialist practices over a 10-year period.
Excellent testing compliance rate of 5.2 times per week
20/39 average VA at conversion
84% of patients maintained a 20/40 or better VA for years after treatment initiation
Real-world performance of ForeseeHome, which included analysis of 3.2 million tests, resembles pivotal AREDS2 HOME study results.
This real-world data analysis confirms that the use of ForeseeHome provides a significant benefit to patients as a means of increasing the early detection of wet AMD. Earlier detection of wet AMD with this FDA cleared device is a strong predictor of better vision over time with current anti-VEGF therapy.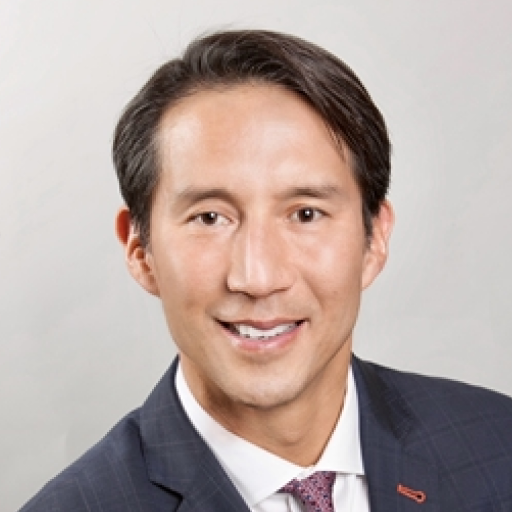 Allen Ho, MD
Principal Investigator at Wills Eye Hospital